Back To Menu
1/2 Fried Chicken - MONDAYS ONLY
Nashville Hot or Regular available served with choice of BBQ Side: Cole Slaw, Baked Beans, Potato Salad, Fried Mac'n'cheese, Fries
Fried Chicken (Select 1):
Nashville Hot
Regular
BBQ Side (Select 1):
Coleslaw
Potato Salad
Baked Beans
Fried Mac N Cheese
Collard Greens
French Fries
Sweet Potato Fries (upcharge)
+$4
Broccolini (upcharge)
+$4
Have you tried this item? Pop it!
Help other diners know what to expect by sharing your experience.
4 people have popped this item
Photo Gallery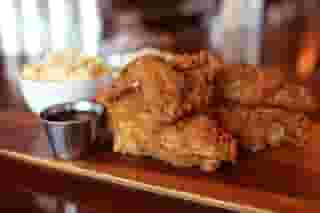 Back To Menu
1/2 Fried Chicken - MONDAYS ONLY
Nashville Hot or Regular available served with choice of BBQ Side: Cole Slaw, Baked Beans, Potato Salad, Fried Mac'n'cheese, Fries
Fried Chicken (Select 1):
Nashville Hot
Regular
BBQ Side (Select 1):
Coleslaw
Potato Salad
Baked Beans
Fried Mac N Cheese
Collard Greens
French Fries
Sweet Potato Fries (upcharge)
+$4
Broccolini (upcharge)
+$4
  Back To Menu